Wells Grey, Trouphy Mountain Chalet
Back Country Skiing - Mar 17-20 2000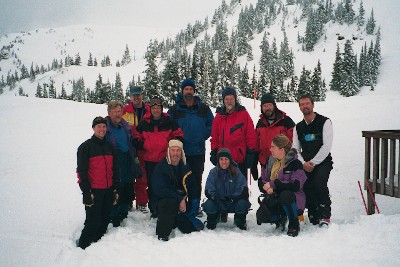 The Crew
---
Party: Neil Fried organized and lead this trip for a group of 10 other Okanagan Section ACC members, and I was invited to come along for the ride.
Plan: Fly to Kelowna, drive to Wells Grey, take a snow cat up an access road for 11km or so, haul our packs loaded with extravagant food up 1500' over 3km to the Trophy Mountain Chalet. Ski powder for four days, eat and drink like kings, partake in frequent trips from the sauna to the snow, around the cabin and the like and reverse the process to get home.
Weather: Dumped fresh powder on us daily. We were forced to stick to nearby terrain due to both navigation and potential avalanche danger. Each ride down required re-breaking the uptrack due to the amount of snow that was falling at times. I was amazed, in the end, that no avalanche activity was witness in our 4 days there given the snow fall.
---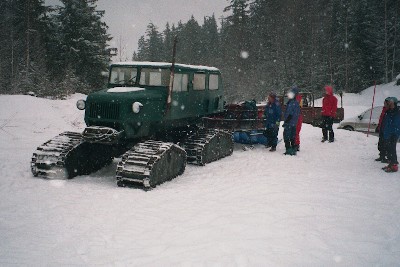 The CAT (pc NF)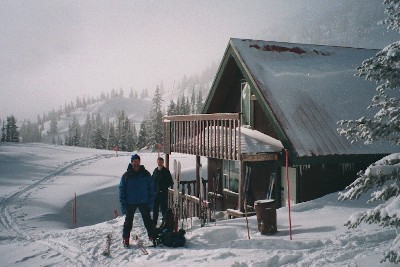 The Chalet (pc NF)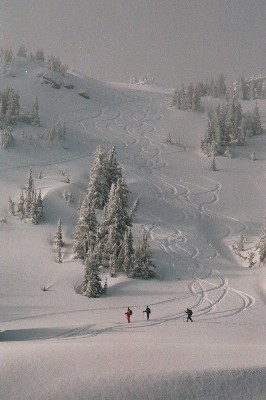 Le Slope de Chalet (pc NF)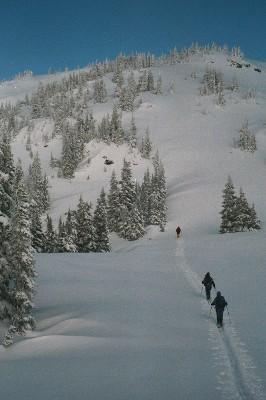 First tracks from Chalet (pc NF)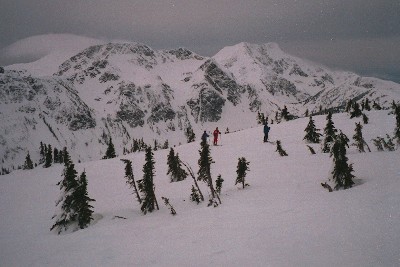 A piece of the Trophy Range (pc NF)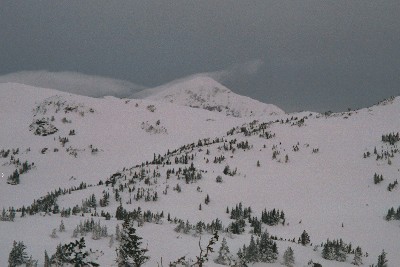 trophy Mountain (pc NF)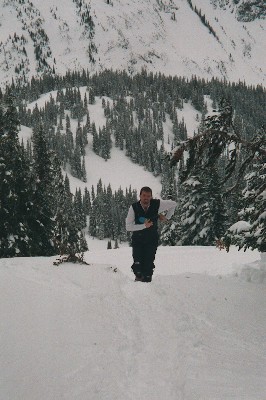 Returning from the potty - Never leave home without yer beacon(pc NF)

This was the BEST powder skiing I have ever experienced. The pow was so light and deep that you HAD to ski normally extremely steep slopes in order to get a good ride in. Controlling your speed on 40+ degree treed slopes was no problem. Incredible. The only down side to this trip was our inability to tour as far as I would have liked. I would have enjoyed a trip to explore the slopes of Trophy mountain itself... not to mention the view from the summit. Oh well, next time.
I know I have some slide shots of my own somewhere from the trip... I don't even think I have developed the roll yet. More to come.... one day.
---
Return to Gord's Climbing Page
---
Created: Dec 28 2000
Copyright © 2000 Gordon Schryer.
E-mail: grs@earthling.net.