Devil's Tower National Monument
Rock Climbing Trip - May 20-23 2000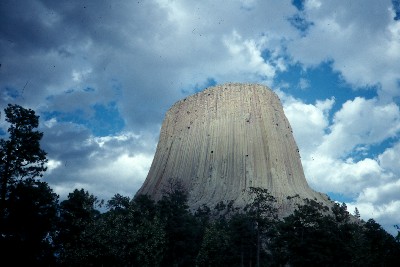 Devils Tower (pc:bc)
---
Party: Apparently just Bridget Calzaretta and a mystery climber from "Denver" whose initials are gs.... as noted in the photo-credits. I will, for the ease of clarity, assume the role of gs in the writing of this memoire.
How it happened... well, Bridget was supposed to be climbing for a couple weeks at DT with some old New York friends. It turned out that these friends were still New Yorkers and had no concept of wilderness, relaxation, or hanging out to enjoy climbing. They moved on and Bridget was left without a climbing partner. GS got the call on Friday and an irrational, spontaneous decision was made to go for a trip. This fellow from Denver happened to be in Seattle at the time of the call so needed to catch a flight from Seattle to Denver that night, drive through the night and be at DT in the morning.... A short nap and he'd be ready to climb... NOT! If the flight hadn't been delayed 3+ hours out of Seattle this may have been the case. The drive from Denver began at 3:30 AM rather than the expected 12AM. Kind of ok, since gs pounded back the miles in record time arriving at DT by 9:30 AM. Exhausted, but excited to be there. No climbing for gs on Saturday. Bridget went off with a pick-up partner and climbed for the day. GS slept a while (not enough), ate a little (not enough), and hung out at the cabin watching Bridget and real mystery partner climb through the binoculars. The perfect preparation for a climbing BONK.
The Climbing: Bridget makes the claim often that DT kicked her ass. I have good source information that gs felt the same. It may have been his spontaneous long trip physical and mental exhaustion required to get to DT that wore him down, but needless to say the climbing kicked his ass too... including a surprising and total BONK on route!!!
It is increadible how polished the approach scrambles are to get to some of the more popular routes... apparently the Durance route, which gs did not do, is now worn down to a slick polished rock from the vast number of repeated ascents.... Thus warranting its increase rating from 5.6 to 5.7. Not to mention, the grading at DT, like most areas is apparently very subjective... one observation by Bridget is that the older routes tend to be under rated by todays "sport" standards. Routes put up recently, even at higher grades tend to be easier than some of the classic old-timer routes.
The Photographs: You may notice a remarkable lack of pictures of this gs fellow.... he apparently took the camera and wouldn't let go... the only picture is a vague and obscure record of his summit presence. This leaves a remarkable collection of photos of Bridget climbing, leading, rappelling. sitting, standing etc....
---
Sunday, we climbed the Bon Homme Variation - 5.8. This route begins with a slight offwidth then traverses around a pillar, apparently the 5.8 crux and into another crack to the top. The crack is sustained "5.7" moves from start to finish. Long pitches of sustained 5.7-5.8 climbing makes gs BONK.... under these very special circumstances.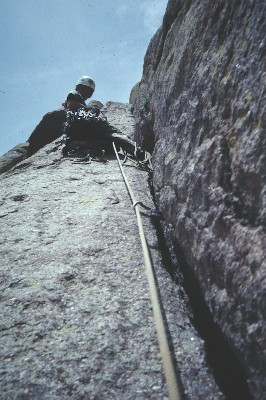 Hanging belay after first pitch (pc:gs)
Boy that yellow rope and blue draws and biners with purple tape look remarkably like mine! Photo taken just after gs took an intentional short pendulum around the crux traverse. I recall some mention of Bridget's use of aid nearing the crux as well.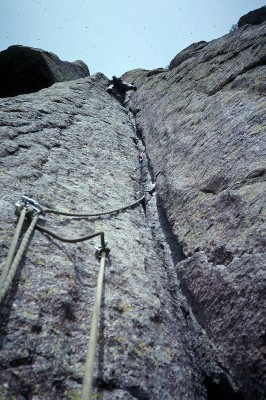 Bridget leads up the second pitch(pc:gs)
That double crack looks easier than it is.... Yes, at points you jam a right hand in the left crack and the left hand in the right crack... seems very natural, but was somehow very strenuous, very sustained climbing.... BONK coming on. Hard on the feet.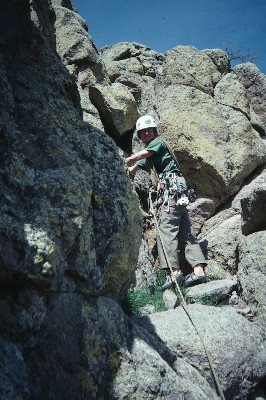 Simul-climbing the last scramble pitch to the summit(pc:gs)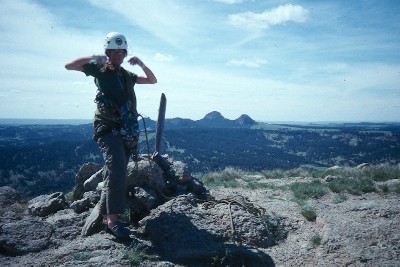 Bridget celebrating our PEAK experience (pc:gs)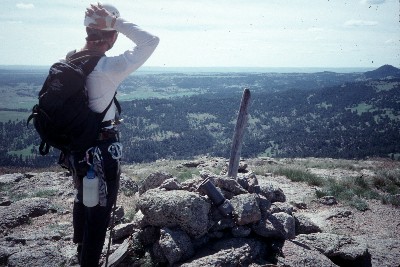 Mystery Climber from Denver?? (pc:bc)
Boy doesn't he look really familiar... and is that a Vertical World sticker he is covering up on his helmet??? Oops...
Bridget rapping off the summit (pc:gs)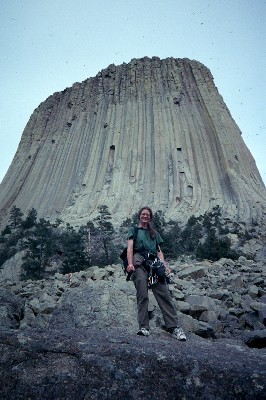 Bridget pumped and posing after our summit day (pc:gs)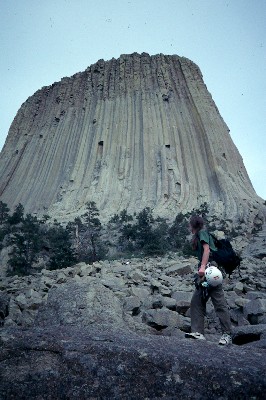 Bridget dreaming of El-Matador, closed due to nesting.(pc:gs)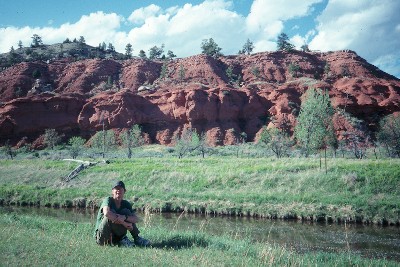 Sitting by the river outside the cabin we stayed in (pc:gs)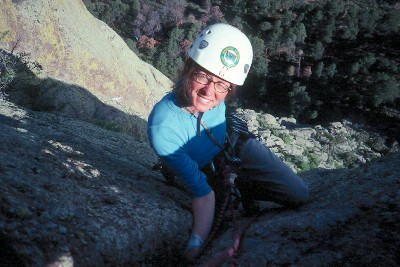 Bridget following unknown climber on unknown day... nice picture though (pc:?)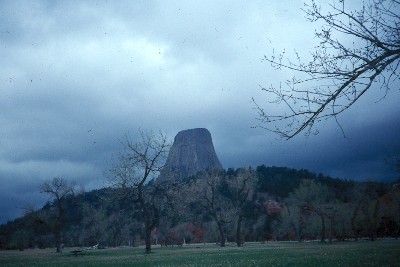 A final look at the tower during one of its many moody moments (pc:bc)
The weather on Monday was moody, threatening, mixed cloud, sun and showers... A little tired still, a dose of laziness, and Bridget's need for at least one rest day combined to ground us for the day. We took on tourist methods of exploring the park, relaxed, hung out and planned our complex departure issues.
---
Does this story have a tragic ending????

Tragic?, well, not really, but surely, hmmmm... interesting, yes, Interesting.
---
Return to Gord's Climbing Page
---
Written: June 11 2000, Update Dec 28,2000
Copyright © 2000 Gordon Schryer.
E-mail: grs@earthling.net.