Roger's Pass - Asulkan Hut
Back-country Ski Trip - April 16-19 '99
Me... Asulkan Pass(pc:WL)
---
Party: Wilf Leblanc, Alistair Fraser, Neil Fried, Dave Ryan and me.
Weather: Despite the steady complaints of poor weather conditions littered throughout the hut log-book, we had a weekend of excellent weather... for sun-tanning at least. It wasn't the greatest for skiing, well better than the cascade and coastal crud I'm used to, but not the dreamy powder I'd hoped to experience.
Photographs??? Yup, yet again, there are lots to choose from. Of course, due to unforseen circumstances, yet again, none will be from my camera. My photographic travel nightmare continues... this one a little worse since I had to lug my gear around on skis for no apparent purpose. I chose to bring my Tamron lenses with my Canon body without the adapter. Just say Duh!! In the last few big trips, I've just about run the gambit of photo-errors... I'll get the next one right... for sure.
---
Day 1: To Asulkan Hut and Pass
A bi-national crew of ski friends met at the Roger's pass visitor center (4000') on Friday, 7:30AM. We had the Asulkan Cabin booked for the next three nights. Friday, we skied up to the cabin (at 7000') with heavy packs. Dumped our loads and continued to Asulkan pass (another 1000+'). Got a long run in back below the cabin. We did a Ruschblock test at 6500' resulting in a 6 rating, did some shovel shear tests and stared at crystals for fun. Despite the increadible sunny warmth, everything seemed remarkably stable.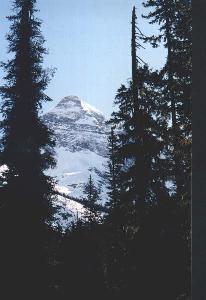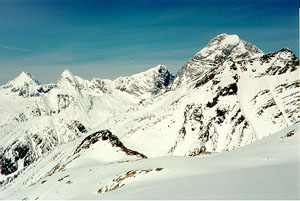 Mt. Sir Donald (pc:WL, NF)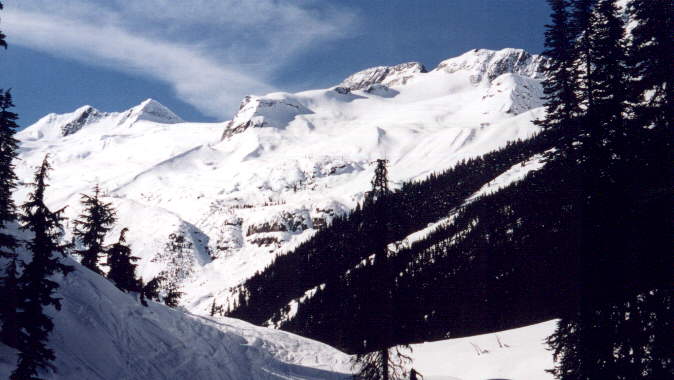 Castor Peak, Saphire Col and Dome Peak (pc:WL)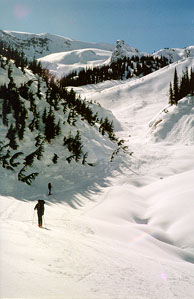 The Mouse Trap (pc: NF)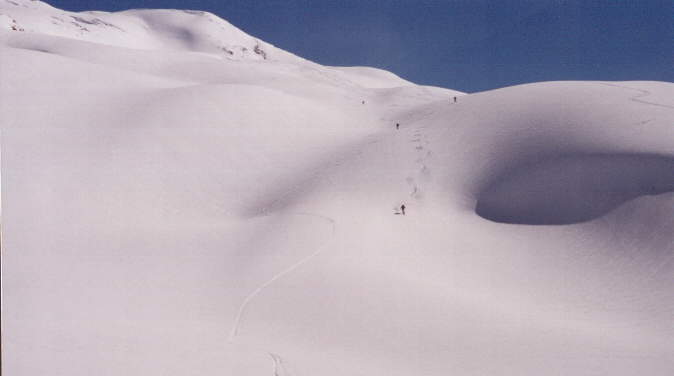 Descending to Hut from Asulkan Pass (pc:WL)
Day 2 - Youngs Peak and Illicilliwaet Glacier
Saturday, we skinned and kicked up the NW face of Young's peak (9200') and went for a long tour down the Illicilliwaet icefield to the top of glacier circle. Skied back up the E ridge of Youngs peak and down the 40-50 degree seven steps of paradise back to the cabin. The longest day warrants the most pictures....


| | | |
| --- | --- | --- |
| Me kicking steps up North Face of Youngs Peak (PC NF) | Young's Peak from the South... A little more impressive! (PC NF) | Ski descent of the East Ridge of Youngs Peak (PC NF) |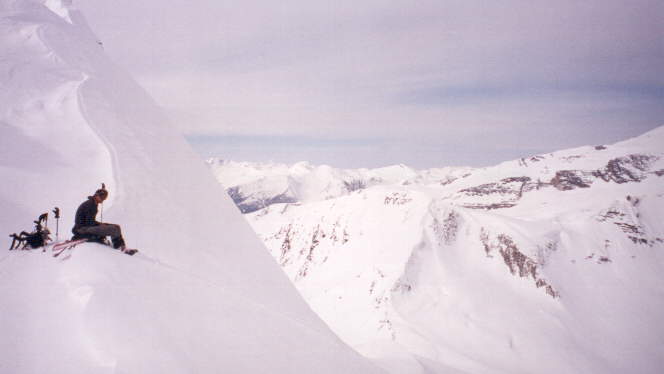 Alistair at top of North Face of Youngs Peak (pc:WL)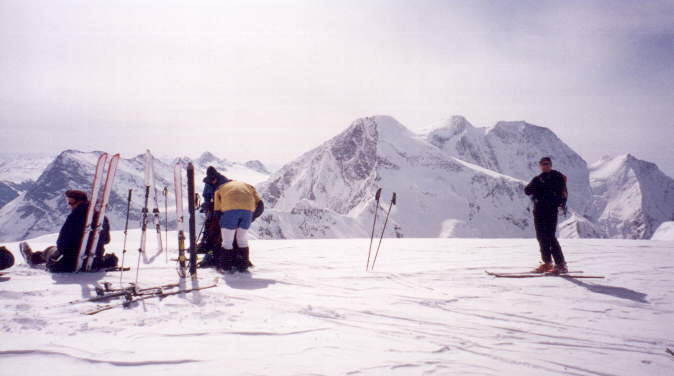 On the Summit of Youngs Peak - Fox Peak in center (pc:WL)
| | |
| --- | --- |
| Along the Illicilliwaet Glacier (PC NF) | More... (PC NF) |
| | |
| --- | --- |
| Heading back up... (PC NF) | Oh Baby! (PC NF) |
Day 3: Saphire Col and Castor Peak
On Sunday, the weather began clouding over, hopefull that this would bring cooler, even more stable weather we headed to Saphire Col (8500'). Lunched in the Saphire Col hut and climbed Castor Peak (9000') (sans skis). The ski descent down from Saphire Col was a long 2500' run. Conditions varied from wonderful to scary. Scary meaning heavy wet snow creating man-sized pinwheels.... the only way out was to continue down; cautiously... survival skiing. I guess the clouding actually came with a considerable warming. We skinned back up to the Asulkan cabin and hung out for the rest of the day.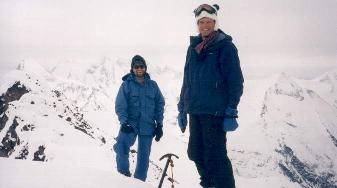 Neil and Alistair on Summit of Castor Peak (pc:WL)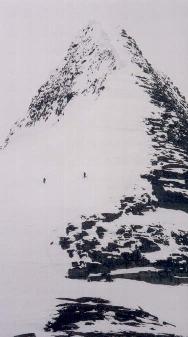 SW Ridge of Castor, Neil, Alistair, Dave and I descending...
yes, all four of us are in this picture, Dave and I are two specks higher up on the snow crest!(pc:WL)
Day 4: Homeward Bound
Monday morning snow, sleet and poor visibility rendered our final day as a ski-out only. More survival skiing and a quick ride through the mouse trap got us back to the parking lot in under 2 hours. Sunburn and chapped lips, good food and great company.... awesome weekend.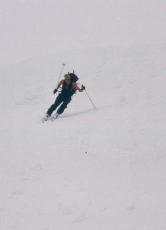 Alistair in full-pack good form... (pc:WL)
---
Return to Gord's Climbing Page
---
Last updated: Sept 28 1999
Copyright © 1999 Gordon Schryer.
E-mail: grs@earthling.net.