---
Climbing Road Trip
Aug 22 - Sep 7 '98
---
A brief account of our trip.

When you've been climbing all spring and summer, what better vacation could you think of than a climbing road trip???
Hey... we went to the beach for an hour! We shopped several factory outlet malls...(window shopped that is)! When we weren't climbing we were pure tourists.

We began our trip with a Mountaineers basic glacier climb of Mt. Jefferson, in Oregon. This was probably my favorite climb of the season (so far). It involved interesting glacier navigation, a steep snow-slope traverse, and fun class 3/4 scrambling to the peak.
From Jefferson we drove past Three-Fingered Jack, Mt. Washington, Black Butte and the North Sister to Redmond, OR. We got a motel to refresh our odors before embarking on two days of climbing in Smith Rock state park.

The first day at Smith we met up with Dave Ryan and a friend of his. Tracy and I climbed on our own for the most part. I did a couple 5.6 sport leads and a 5.6 gear lead. Dave, attempting to rid himself of his four year nightmare failure on "wedding day" (10b - some say with an 11a or V1 start to the first bolt at 20ft.), insisted that we try it. Dave, after several uncountable restarts, led the route in about 45 minutes. I, after several more uncountable restarts and a near shoulder stand on Tracy, was basically hauled up the route with Dave on belay.... hey once or twice I strung together two or three moves before hanging. It only took me an hour... I think. After qualifying day 1 as inefficient and hot, Tracy and I decided to hire a climbing guide for the second day. We had a great day: Climbed 6 three and four star climbs (9 pitches), all in the shade, and didn't have any lead-stress.

From Smith Rock, we drove all scenic byway-backroads through Bend, past mt. Bachelor, Broken-Top,the South Sister, Mt. Theilsen and on to Crater lake. I have to say, Crater lake is impressive yet a little over-rated. I didn't have high hopes before going there so I wasn't disappointed. I am sure it would be far more impressive in winter... wonder why most of the post cards are of winter scenes?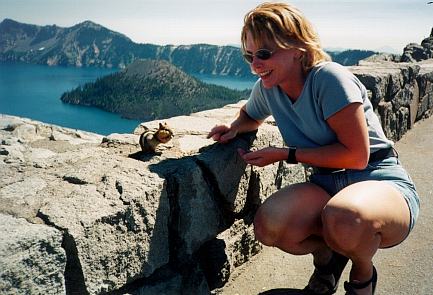 Crater Lake.
We camped a night at Crater lake before heading south past Klamath lake, into California, past Mt. Shasta and on to Dave's place in Oakland. (Just like people from Surrey, British Columbia are sure to insist on being from South Surrey (close to white rock), Dave is sure to remind us that he is from North Oakland, close to Berkeley.) Mt. Shasta, after our drive by viewing, has earned a place at the top of our climb list for next year.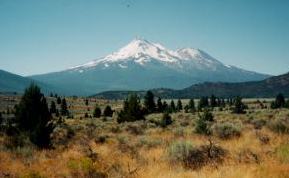 Mt. Shasta from the North.
Our first day in San francisco was a walking tour marathon. We took the BART from Oakland to downtown. We walked throughout SF, seeing union square, china town, north beach, coit tower, pier 39, fishermans warf, and Giarardelli square. We then rented bikes and road through fort Mason and over the Golden Gate bridge to the view point on the N side. After returning the bikes we caught the cable car up Hyde street and ate dinner at the Hyde street Seafood House... highly recommended (my second time there in two trips). Tracy wanted to come back for dinner there the following day too. After dinner we jumped on the Cable car back to the BART station and took BART back to Oakland... a 14 hour day. Next Day we headed south passed through Golden Gate Park and drove down the coast through Santa Cruz and Cupertino to Monterey Bay. We stopped in Cupertino, a cute little coastal villa, dropped in on the restuarant of some friends' relatives for a burrito and Yes, here we lied on the beach for an hour or two! That evening and the next morning we mulled around Monterey Bay... shopping, being real tourists. The weather was not great... a constant misty fog and cool breeze. It didn't appeal to us to hang around in the cold for too long so we head back north and inland to the land of sun and warmth.
The next day, after visiting the North Face factory outlet in Berkeley, we headed to Yosemite Valley with Dave. We got to the valley at a reasonable time and were lucky to get a camp spot... yes there were a couple newly opened spots that hadn't been reserved. Can you believe that Tracy was under impressed with the valley? Perhaps again an example of overset expectations. That afternoon we went for a quick climb of Chouinard's crack on the Monday Morning Slab. It was a good introduction to Yosemite granite, crack climbing and an appreciation for the damage that pitons have created. The pin scars were key elements to my climb, it would be significantly more difficult without them... a sad scene. This climb also provided a nice view across the valley to the Royal Arches and the destination route planned for the next day.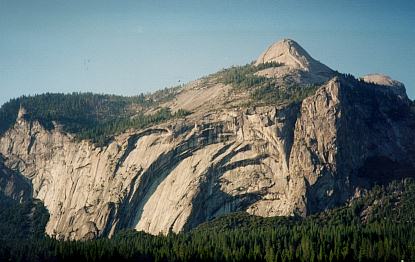 Royal Arches from Monday Morning Slab
Day two in the valley was spend roasting on the Royal Arches Route. The climb was great! Dave gets credit for leading the whole thing. I would have considered leading a couple pitches if we had the time, but as you will hear... we did not. In 17 pitches of climbing in 90 degree weather in which we ran out of our 9 litres of water about a third of the way up!!! Needless to say, we were a little dehydrated and dilerious by the time we got down.... in the dark. Tracy almost killed a guy taking his time in front of the water tap! We ate a premium meal at the mountain house restuarant. Exhausted from the previous day's climb, we took a day off, toured the valley scenes: Ansel Adams gallery, Yosemite falls, and a view of El Capitan.
From the valley we drove to Toulomne Meadows. Tracy was going to join a horse back ride and Dave and I probably would have climbed some short pitches but the horse ride was booked up and we started to have some thunder showers, so no go... on both counts. We got to our camp site, set up and then went for an unplanned road trip to Mamouth, on the east side of Yosemite Park. We checked out some gear stores and had a great burger at Berger's Burgers. Day two in the meadow, Dave, Tracy and I climbed Cathedral Peak.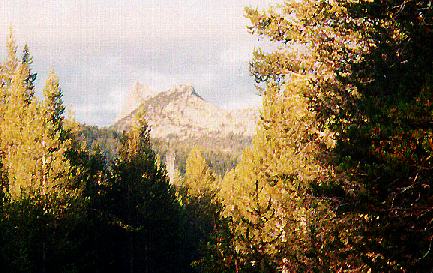 A heavily massaged image of Cathedral Peak
This had a more alpine feel to it than Royal Arches. It starts with a short 1.3 hour hike to the base followed by 8 or so pitches to the peak. We raced against the pending thunderstorms to the peak, barely avoiding entanglement with the other two parties who happened to be doing the same. I led on one pitch that was going really well... unfortunately leading myself to a point that I couldn't continue. Dave had to follow up to where I was and continue over the crux portion that I was stalled on. The rain began to threaten just as the last party was beginnig to rap off the peak. Due to the crowd on the climb we were rushed off the peak and unfortunately Tracy didn't even stop to check out the view.
Dave left for home that night. Tracy and I watched a bear trummel through the meadows camp site. The next day, under threatening skies, we headed down to Mono Lake. We checked out some of the Tufa towers and then drove to the black-point fissures. A short 30 minute hike through the desert like terrain, lizards and all, we found the fissures. These fissures were created during volcanic erruptions while under the lake surface. They create, effectively, rock crevasses. Some of the fissures were fifty feet deep and quite long. We walked along the bottom of one of them. Tracy had left her sun glasses and water bottle at the top so I went to get them. I saw a nice crack, that after my recent crack climbing adventures I felt confident that I could climb. After several looks at the crack to convince myself that I could solo it to the top, I was just about to place my first hand jam right on a snake. The snake was coiled vertically in the crack. It was pretty big with colors like a rattler but the head was smaller than its body.... I think rattlers heads are of similar size or larger than their body girth. I was a little startled; Walked the long way around to get Tracy's stuff and from then on, our fissure exploration was taken on a much more cautious note.
From Mono Lake we drove N passed Lake Tahoe (West shore) and on to Reno, NV. We experienced an awesome thunder storm and flash flooding while driving along the north shore of Tahoe. We spent some time gambling in Reno, lost some money but had fun. We were up until 4AM and then back on the road home by 9AM. We drove through Mt. Lassen Volcanic National Park. We had earlier planned on running up the trail, but we were tired and had a sense of urgeny to get home. This same sense of urgency kept us driving all day. I pulled over at a rest area at about 11PM that night. I woke up at 4AM and drove home to Redmond, WA by 6AM. Getting home early was well appreciated. Back to work the next day.
---
My photographic nightmare:
After climbing Royal Arches, I ran out of film, so proceeded to reload film while walking across the slabs to the descent route. It later came to my awareness that I had not loaded the film correctly and all 38 of the, of course awesome, pictures I took through Toulomne meadows, mono lake, and Lassen, were not exposed on any film! A significant depression point. When I got home I was unable to find two other rolls of film that I had taken... a tormenting scare for a while, but I eventually found them Whew!!! To cap off the photographic nightmare, two the rolls I shot were on Kodachrome - yuk!!!
I hereby vow never to use Kodachrome again!
Sure it gives realistic colors, but they are not the colors of my memories!
---
Return to Gord's Climbing Page
---
Last updated: 31 Oct 1998
Copyright © 1998 Gordon Schryer.
E-mail: grs@earthling.net.