---
Return to Gord's Climbing Page
---
Silver Tip Peak (6140')
SW Face - Aug 8 '98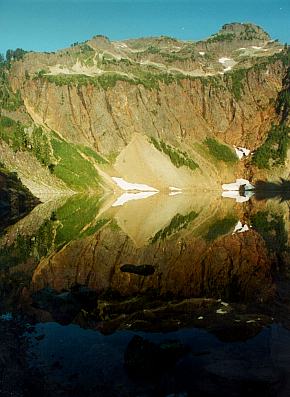 Silver Tip is the generally unattractive peak on the right.
Though the reflections in Silver Lake were spectacular
---
Party: Jay and Lindy Bruce, ? and ? and I
Jay Bruce was assigned to Tracy and I as our Basic course mentor. He and his wife Lindy were excellent mentors and contributed generous amounts of technical advice and support. I have been fortunate, I think, to develop a close relationship with them and have been invited to join them on a couple of their personal adventures.
Silver Tip peak is a one such trip that I joined Jay, Lindy and a couple of their friends on (names slipping my mind right now). Silver Tip is in the Monte Cristo area and the approach begins with the 4 mile walk down the old road to Monte Cristo townsite.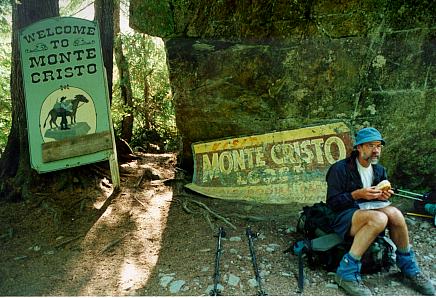 Here is Jay enjoying lunch at the Monte Cristo townsite entrance.
---
The trail up to silver lake is steep and not well maintained. However, the views of Wilman peak, Wilman spires, Monte Cristo and the Cadets are fine.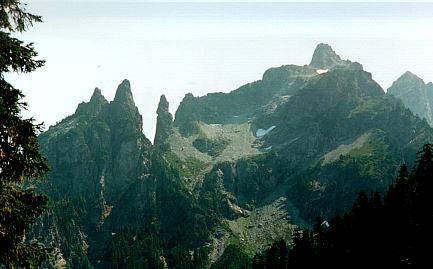 Wilman Spires
---
We set up camp at the lake, and after a short lunch headed up the ridge around the lake to the peak. The trail up to the peak is easy to follow, however we did debate the route traversing across to the summit pinnacle.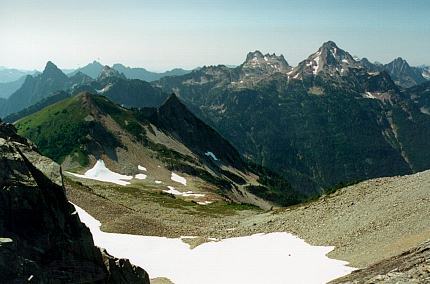 The view west from the saddle just below Silver Tip
---
The summit pinnacle involves 3 or four pitches of class 3 and 4 scrambling. We roped up for the last couple pitches. Jay let me lead the final pitch in which I placed some desired pro. The last move onto the summit, I would argue, is a low-5th move.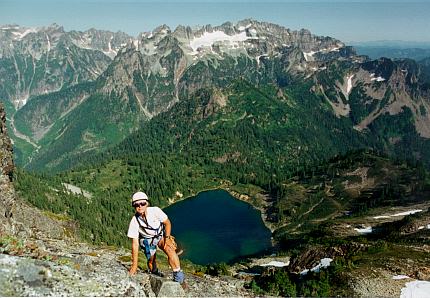 Lindy starting the scramble with Silver Lake and Columbia Mtn. in the background
---
From the summit of this measly peak you can see a surprising number of surrounding peaks for quite a distance.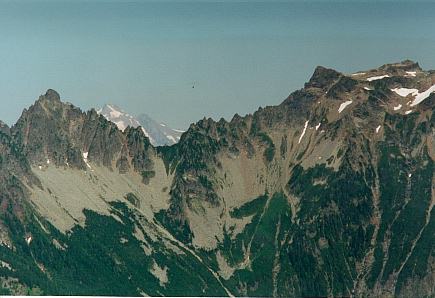 The view north with Glacier peak through the gap.
We stayed the night, planning on tackling Columbia peak on Sunday. Unfortuantely our party's enthusiasm for the double header waned over the course of the night. Instead, we had a relaxing morning by the lake, and a comfortable stroll back to the cars. The double header would most likely have had us crawling back through the night.
---
Last updated: 2 Dec 1998
Copyright © 1998 Gordon Schryer.
E-mail: grs@earthling.net.