---
Ingalls Peak (7662')
South Face - July 25 '98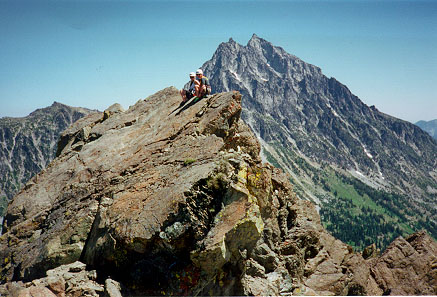 Tracy and Joanne at the summit with Mt. Stuart in the background
---
Party: Mountaineers - Phil Newell (ldr), Eric and Joanne Haberman (r.ldrs), Dave ?, Tracy and I
Route: The hike up to Ingalls pass and the meadows is straight forward and quite easy.... A case where I frequently wished they made the trail a little steeper! From the pass we followed the trail around to the scree slopes heading up to the dog-tooth crags. We crossed some small remaining snow patches.. low angle and of no concern. A short scramble around the dog-tooth crags and up to the first pitch was a little loose. We roped up there, left our packs and scrambled up to the first ledge before starting to climb.
The climb is straight forward with a choice of two large cracks from our starting point. Phil and Dave took the left hand crack straight up to the second belay station. Tracy and Joanne took the right hand crack to the first belay station. This allowed two teams to get started quickly. From either the first or second belay station, the top can be reached in a single pitch. Eric and I followed the right crack route.
The rock is quite interesting. Not being a geology major, I can't give the "Becky description", however, portions of the rock were like highly compressed and polished marble. No friction possible at all.... this helped to keep you on route on the climbable rock. This rock made the initial rapel from the summit quite interesting. The rapel anchors are at your feet and the vertical face that you have to lower onto has a copious smearing of this marble.... I recommend the sit-down rappel start.
---
Eric and Joanne are a couple... both Mountaineers Intermediate students, both rope leaders. You gotta love the double rack purchase problem that they have got themselves into! Very cool folks.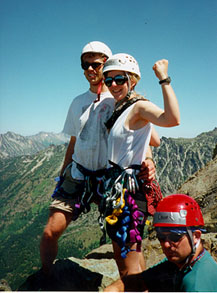 This is Eric and Joanne at the false summit.
---
Here is a shot of the whole team (sans Tracy)with Ingalls' south summit in the background. You can also pickout Mt. Adams in the original photo, but the jpg conversion just doesn't cut it here.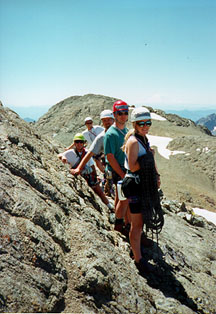 The party (back2front) Eric, Phil, Me, Dave and Joanne preparing to rap off
---
There is a large ledge about 4 feet below and on the hidden side of the summit. If you get there first, while the rest of your party is hanging out at the false summit, you can pretend to fall off the summit... landing on the large ledge. This should raise a few heart-beats.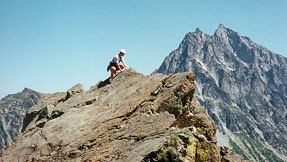 Me contemplating my simulated tragic fall.
---
This was the hottest day of summer as far as I can recall. We were lucky to get an early start and high enough elevation to not notice any intense heat. A light breeze probably helped too. However, I sure noticed the increase in temperature as we descended the trail back to the parking lot.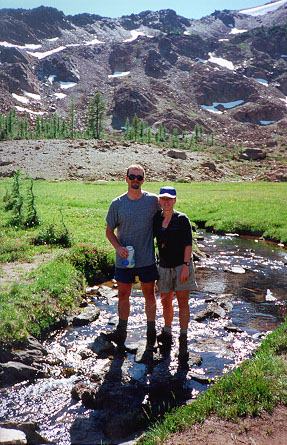 Tracy and I rehydrating and cooling off in the meadows below Ingalls pass.
---
Return to Gord's Climbing Page
---
Last updated: 20 Oct 1998
Copyright © 1998 Gordon Schryer.
E-mail: grs@earthling.net.